2023 NWT SANTA CRUZ JP WALKER PRO MODEL SNOWBOARD 147cm Twin Camber $450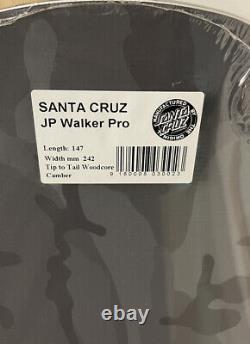 2023 SANTA CRUZ JP WALKER PRO MODEL SNOWBOARD. CONDITION: BRAND NEW WITH TAGS. One of my first boards was the Santa Cruz ASR 163. I loved it so much and when I rode it I tried to channel the spirt of some of my favorite Santa Cruz riders like Chris Roach, Brian Thien and Sean Kearns. It's a surreal feeling to now see my name on a Santa Cruz Snowboard embodied in artwork by Jim Phillips. The Yeti Hand is one of the final illustrations done by Jim Phillips for Santa Cruz Snowboards, circa 2012. I love the Yeti Hand twist on the original Screaming Hand graphic and I think it's a perfect fit for SC snowboards. My new board is a classic twin shape with traditional camber but it is also easy to ride and more forgiving than the heavy cambered boards of years past. It still rails hard on hard pack and floats in powder and has enough give to press the steel.
I've always liked riding one board for all terrain and this board does that job well for me. Edge: HRC Stainless steel edge.
Core: HCM+ Triax Tip to Tail Wood Core. All Mountain Freestyle for advanced level riders. This aggressive board is perfect for experienced riders looking for a versatile deck for high speed runs on the slopes and in the backcountry. No matter the terrain or snow condition, this is your everyday resort and backcountry performer. This True Twin provides balanced and equally versatile riding capabilities.
Camber represents the best performance level in snowboarding today. Cambered boards are the go-to shapes for stability and reliable edge control for experienced riders and all-terrain snowboard enthusiasts. The preferred shape of our riders for big air, kicker jumps and high speed carving sessions. There's no substitute for camber when taking on transitions and speed runs.
The medium-stiff flex - 5,5 out of 10 - provides you with a lively board that allows you to stay in control at all speeds and pop over everything. The HCM+ Triax core was designed to provide maximum torsional strength without limiting the longitudinal flex ratio. Boards with a softer flex still maintain high torsional strength for maximum edge grip and control.
The Triax 45+ laminate offers precision flex and stability that delivers quicker edge to edge response and control at higher speeds. The Super Glide SX8000 base provide superior speed and high durability. The high molecular density makes the base extremely durable and will be delivered with structured stone grinding base finish.
High abrasion resistance and strength for rail slides and backcountry runs.

---