Santa Cruz Shredder JUMBO 4 4-Part Multipurpose Grinder Green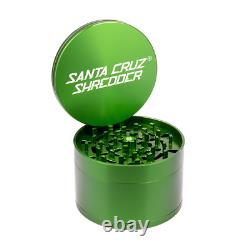 Santa Cruz Shredder JUMBO 4 4-Part Multipurpose Grinder - Green. Their dedication to continually improving their products in order to deliver the highest quality grinder to enthusiasts is arguably unequaled. This new, unused, and guaranteed authentic Santa Cruz Shredder grinder is green in color, measures 4 inches in diameter, and features a sleek glossy finish. Made in Santa Cruz, USA. Medical grade, ultrasonically cleansed anodized aluminum.
Unique threading pattern, friction ring, and textured grip. Rare earth magnet in lid. Built-in storage area below with screen to collect fine particles. Perfect for cigars, coffee, peppercorns, dried herbs & spices, coriander seeds, etc.
Please inspect your item before use. Please rest assured you will receive exactly what is pictured. Before using this item, please inspect it and notify us of any issues right away, and we will work to resolve them promptly. Please note that once the item has been used, we cannot resell it, and we will not be able to offer a return under any circumstances after it has been used. There are no exceptions to this policy, and we thank you in advance for understanding.

---